19 March, 2014
Top Big Data Infographics From The Past Year
The Internet is flooded with infographics. There are so many that there are actually infographics about the efficacy of infographics and about the increasing number of infographics being created. Luckily, you don't have to sift through all the statistical noise to find good infographics on BI. We've compiled the top big data infographics of the past year that every BI addict should see.
The Who, Why and How of Big Data
Publisher: Bain & Company
Financial services organizations are the biggest spenders on big data. What are they trying to solve? And what can companies in all industries do better to leverage their big data? Take a look.
Publisher: Domo
So just how "big" is big data? This infographic provides some fun facts about the (insanely huge) physical size of big data.

Publisher: IBM
Before you can even begin extracting value from big data, you need to understand it. And that starts with the four Vs: volume, velocity, variety and veracity.
The World Needs Data Scientists
Publisher: BusinessIntelligence.com
The title of data scientist was called the sexiest job of the 21st century. This infographic is our own creation and highlights the gap between the supply of data scientists and the growing demand for them.
The Internet of Things: Heading Towards A Smart Planet
Publisher: BestComputerScienceDegrees.com
The Internet of Things (IoT) is producing massive amounts of data every year and it will only continue to grow. It is estimated that by 2020 there will be over 200 billion connected devices. The possibilities for marketing, manufacturing, engineering, healthcare and most every other industry are limitless.
Big Data Survey: What Are The Trends?
Publisher: Jaspersoft
Commitment to big data is trending up and confusion around the subject is diminishing. This infographic shares some of the latest big data trends, such as the fact that the percent of companies with funded big data initiatives has doubled over the last year.
A Look At Awesome Data Centers
Publisher: WhoIsHostingThis?
Big data requires big-time energy. Take a look at the locations of the biggest data centers are around the world and where the likes of Apple, Facebook and Google store their data.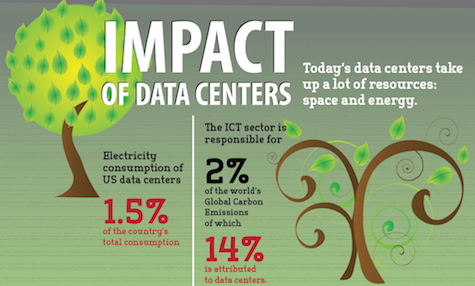 Big Data Enables Companies To Improve Decision Making
Publisher: IDG Business Media GMBH
Besides creating millions of new jobs, big data is going to help organizations make better decisions. This infographic gives a step-by-step guide on how to make better decisions by analyzing data in finance, sales, marketing and HR departments.
7 Ways Big Data Could Revolutionize Life By 2020
Publisher: WhoIsHostingThis?
Humanity is generating 2.5 quintillion bytes of data every day. This data has the potential to dramatically change our lives over the next few years. If the changes are going to be realized, increased skills and capabilities with analytics and business intelligence will be the catalyst.
Retail And The Big Data Revolution
Publisher: Wipro
Retail is one of the many industries taking advantage of big data. For example, 64% of retailers have made financial gains in customer relationship management through big data.